Blue Sky power washing services in Woodsville , N.H.!  Blue Sky pressure washing is "eco friendly" Blue Sky house wash cleanser packed w/non-toxic naturally-derived ingredients. Blue Sky washing packs a giant gentle punch!
Our product is perfect for: Clap board, Vinyl siding, Asphalt shingles, Driveways, Gutters, Brick & Stone, Walkways, Wood & pavement, Patios, Decks, Cement.
Blue Sky Pressure Washing is your Eco Friendly company in New Hampshire & surrounding communities of Woodsville  area! Call Blue Sky Power Washing in New Hampshire for a Quote for your roofing "ugly shingles", vinyl, asphalt, pavement, & clapboard Cleanin!
Woodsville weather can create algae, dirt, grime and mildew on your home & vinyl siding & shingles and if not cleaned, can cause costly repairs, renovations or replacements.
Blue Sky offers in Woodsville a low pressure roof washing service cleaning the black streaks on asphalt shingles is known as roof algae, It will only get worse if not taken care of.
Algae likes to thrive on the north side roofs where the proper amount of shade is present, It feeds on the crushed limestone that is used in asphalt shingles.
Rain spreads the algae down the roof causing unsightly black streaks. Call Blue Sky Team member today, Serving New Hampshire for all your residential pressure washing needs! 603-694-9274″
Get A Pressure Washing Quote in Woodsville New Hampshire!
1. How long has Blue Sky been in business?
Blue Sky began pressure washing operations in 2006.

2. How do I get a service quote?
99% percent of Blue Sky quotes can be emailed to you within 24-48 hours, upon completion of our
safe & secure webform.

3. Does Blue Sky carry insurance?
We carry all the insurance required to protect our Customers & The Blue Sky Team.

4. What Locations do we service?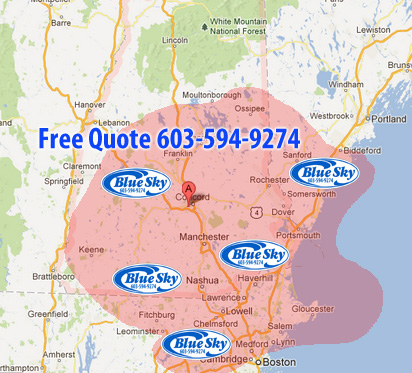 5. Do we need to be home for Blue Sky service?
No. You do not have to be home for the cleaning, but before you leave please bring pets inside, make sure all doors and windows are closed securely, unlock any gates, and move your vehicles into the garage or out to the street. We will need to use your exterior water spigots during the process, so please make sure that we have access to them.

6. How do I pay Blue Sky
Most of our customers pay by check at time of service.

7. Does Blue Sky protect landscape & grass?
Blue Sky uses only environmently safe solutions. We will also rinse with water to help protect your landscape.

8. What are the ugly black stains on my roof?
Those dark stains on your roof are algae. The textbook name for this type of air borne algae is Gloeocapsa Magma. Gloeocapsa magma is found in warm humid environments and often appears on the North side of the home and under trees.

9. Are all pressure washing companies the same?
No. Not at all, at Blue Sky we only use "pressure" on hardscape surfaces. When washing houses we use our "soft wash" methods which are safe and will not damage your home.

10. Why can Blue Sky provide an accurate quote without visiting your home?
Since we started our business in 2006, we have gained the knowledge and experience to ask the questions in order to provide an accurate quote.